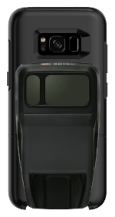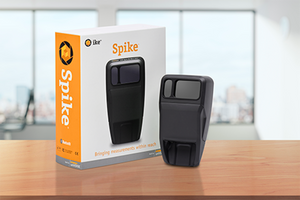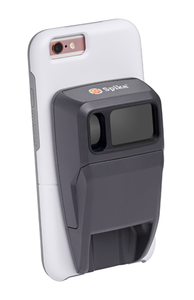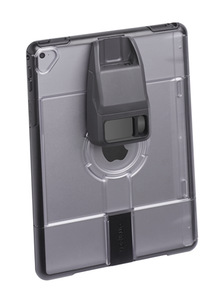 About Spike
This model of the Spike device is designed to integrate with the OtterBox uniVERSE case system for Apple iOS and Google Android smartphones and tablets. The cases feature a slotted rail that allows you to attach Spike interchangeably to the back of a smartphone or tablet without removing the case, making it quicker and easier to attach Spike in the field. 
This product does not include the OtterBox uniVERSE case. Case is sold separately, and can be purchased from OtterBox and their authorized resellers. To purchase the OtterBox uniVERSE case, visit the OtterBox website.
This Spike model has the same capabilities as the Spike for Smartphones and Spike for Tablets models.
The Spike laser device, Spike mobile app, Spike Cloud and your smartphone or tablet work together to bring measurements within reach. Spike allows you to measure an object simply by taking a photo with your smartphone or tablet. From that photo, you can capture real-time measurements including areas, elevations, distances between two points, and GPS/GNS location. Spike also supports design, architecture/engineering/construction, and GIS software, including Collector for ArcGIS, Survey123 for ArcGIS, AutoCAD, ARCHICAD, Adobe Illustrator, CorelDraw and Flexi.
The Spike device pairs with your smartphone via Bluetooth. Spike's laser rangefinder works together with your smartphone or tablet's camera, GPS, compass and Internet connection.
Your Spike purchase comes with a RISK-FREE 30-day money back guarantee, and basic access to the Spike Cloud.
View top pre-purchase questions 
Check to see if your device is compatible with Spike

Compatibility
Spike is compatible with both Apple iOS and Google Android smartphones and tablets. Be sure to review the full list of compatible devices and platforms prior to completing your purchase. Not all smartphones and tablets are supported.
Check to see if your device is compatible 
Shipping & Warranty 
You can select your preferred shipping option during checkout. Taxes and duties will be unpaid for shipments, except for the states of Colorado, Virginia, and Washington.
Spike comes with a 1-year warranty for defects or workmanship issues (2 years for EU customers). Please refer to our Terms of Sale for Warranty information.
If you are not satisfied with your Spike device, we will accept returns for refund if we are contacted within 30 days of the date that we shipped the Spike to you. Please contact us at support@ikegps.com to arrange a return. For the full return policy, please see the Terms of Sale.
Contact
For returns, warranty and pre-purchase questions, please contact us at support@ikegps.com.
To view Frequently Asked Questions about Spike, including questions about supported devices and accuracy, visit our Spike Support Center.